As an automobile repair business owner, your biggest priorities are running a smooth operation through the entire repair process, managing income & expenses, and satisfying your customers. However, it's a fine line you have to walk to have your front-end and back-end work together in a quick, efficient matter. If a repair is delayed due to a backlog of work or if an adjuster delays a claims approval, then it can be challenging to maintain the smoothness of your operation. Sure, you can spend time researching ways to improve your processes, but who has the time to stop and implement them when you have other tasks demanding your time?
Thankfully, the auto repair industry is ever-evolving in more ways than just the vehicles it serves. This evolution also includes the repair process, as shops and distributors are always looking for more innovative ways to reduce cycle time, increase revenue, and increase the efficiency of the repair process. One takeaway from top growth-focused PDR businesses that is easy to copy for yourself is their implementation of  PDR software (such as ReconPro™) to successfully handle both the front-end and back-end operations of their shop. 
Here are three ways PDR Software can improve your operations: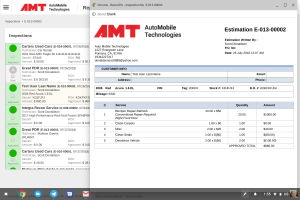 1)    KEEP TRACK: 
With a PDR software, you can manage and assign jobs, schedule technicians, receive real-time reports of the repair status direct from your technicians, determine R&I labor times, and much more. 
2)    KEEP THE CUSTOMERS HAPPY:
You can set, adjust, and control customer-specific pricing with even the most complex pricing models. Customers can receive and approve their estimates, supplements, and invoices in real-time with the technician. We know that each repair is unique and every customer is different, which is why PDR software allows you to manage all the variables in a streamlined process. 
3)    KEEP IT SIMPLE: 
PDR Software is designed to be easy to use and is made for both front-end operations and back-end operations to work together in unison. There's no specific training your technicians need to take, and nothing needs to be installed by IT specialists. ReconPro was designed by and for people who have worked in the industry for decades, not by Silicon Valley software conglomerates.
Implementation is as easy as installing an app on your iOS or Android phone or tablet, setting up a few parameters and connecting it to your bookkeeping software. You will be amazed at the time it adds back into your day. 
ReconPro has all the essential tools for performing PDR estimates, hail and insurance matrixes, paint code lookups and much more. ReconPro handles every aspect of PDR and SMART Repair business so you can finally emerge from the office and allow your business to grow to its highest potential. 
AMT invites you to schedule a free demonstration of ReconPro and see just how well the software works for your PDR or SMART Repair business