If you run or own a PDR or SMART Repair business, you know how much stress the back-office can create. You more than likely spend hours each week, if not more time, waiting on approvals and sifting through estimates, invoices, commissions, and accounting. It's a necessary part of the business, but it's not the work you want to spend such a substantial amount of time on. You want to dedicate more time to what actually makes you money– and that's the PDR work itself.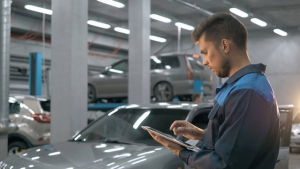 Unfortunately for many PDR and SMART businesses, those approvals, estimates, and more often build up and create bottlenecks in your operation. If your business still uses dry-erase boards, paper, or even sticky notes, you're not running efficiently. Even if you've graduated from pencils and markers to using spreadsheets, your admin time is still likely longer than it could (and should) be. Luckily for your PDR business, there is workflow management software that can take those hours of paper and manual work and cut it down to just a few minutes.
There's a reason the most successful repair businesses already use management software. It cuts down on back-office work, as it automates approvals, estimates, invoices, commissions, and more. Moreover, it gives you the information you need to effectively manage your business in real-time at the click of a button. You can look at your current operational statuses, see where constraints are, and which technicians are working on a which jobs.
Management software companies, such as AMT, help make sure your operation is running in an efficient and organized fashion. Their software doesn't require a drastic change to your PDR or SMART Repair business and allows you to store data, photos, documents, client and vehicle data, and more at your desktop or preferred mobile device. 
Look, we've got nothing against whiteboards and paper. Some of the greatest ideas in history started out on one or both of those. Heck, even our flagship product, ReconPro™, was an idea on a whiteboard before it was a digital reality. What we are against is inefficiency. If you're spending more time than you'd like on tasks that don't generate income, management software could be a wise choice. Use ReconPro and grow your business, not your paperwork!