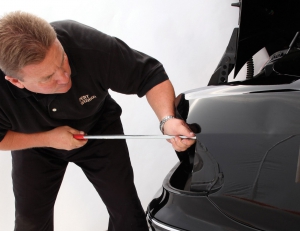 Back in the 1960s, Paintless Dent Repair (PDR) came about as an alternative to the traditional dent repair methods. It's a form of repair that restores a vehicle's body to the way it was prior to collision without repainting. It also does it at a fraction of the time and cost of other traditional dent repair methods. One of the biggest uses of PDR typically involves hail-damage on cars. Over the years, it has proven itself a worthy part of standard reconditioning processes. Whether it's for standard used car dealership reconditioning or for preserving the exterior integrity of a classic car, PDR can do it all while preserving the original paint surface. 
According to Hot Rod Network's, Mark Ehlen, shops such as Muscle Car Restorations in Chippewa Falls, Wisconsin have begun to understand the importance of PDR in the reconditioning process. So, while their intent is not necessarily saving on paint, they are minimizing their use of body fillers by preserving the original sheet metal in the vehicle. 
Currently, with vehicles out on the road in the U.S. sitting at an average of 11.8 years old, many have already experienced one or two rounds of reconditioning. Unfortunately, Mark Ehlen says that a lot of the vehicles that are still being driven today were also reconditioned in the 90s. Back then, the standards for reconditioning were much lower than they are today. So, if a vehicle had a dent, it was simply covered up with some filler and painted over.
Over the years, those fillers can wear down and reveal years of dents and dings. However, PDR on bare metal as well as on e-coated panels isn't the same as repairing surfaces with glossy, and undamaged paint. When it comes to performing PDR on bare metal, it can be difficult for technicians to actually see where the dents are since the surface is much less shiny. 
So, unlike PDR on newer vehicles, the metal panels are smoothed out. However, according to Mark Ehlen, because of the challenge of seeing where all the dents are, a lot of them will be filled during the primer, filler, and block sanding stages. The benefit of reconditioning older, heavier sheet metal is that it's much more forgiving than the thinner metal and aluminum used in newer vehicles. It may require more force to repair a dent in this metal, but it's also much more difficult to overdo the process. So, if done correctly PDR can actually save you a huge amount of time during the bodywork phases of reconditioning. 
AutoMobile Technologies Can Help You Implement PDR Into Your Reconditioning Processes
AMT offers software solutions designed to make your reconditioning business more efficient, provide you with better visibility, and give you peace of mind knowing that your back-office is always up-to-date.
ReconPro is the industry's most versatile and powerful software solution purpose-built for auto recon professionals. With essential tools for performing PDR estimates, hail and insurance matrixes, parts management, paint code lookups, integrations with body shop crash systems and accounting systems, too. ReconPro manages the details of running your business so you can focus on growing your business.