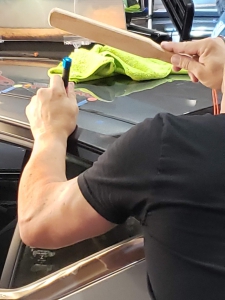 Repairing damage on steel and aluminum panels while keeping the paint intact is where you'd see a PDR technician working his or her craft. According to Mobile-Tech News, less than one percent of Paintless Dent Repair technicians in the United States are females. But whether you're a man or a woman, how can you stand out to show people you're part of that 1 percent that are truly masters of the craft? 
For one woman named Susan Lechtenberg, she not only does what the men do, but she has made a name for herself in the PDR industry. 8 months after her first dent push, her repair shop-owner brother encouraged her to pursue a hail storm on her own. It was time. This independence that hail chasers and many PDR technicians often feel is a significant aspect of the job. Susan had several technicians that showed her tips and tricks along the way, from leverage techniques to even lighting adjustment; and she paid close attention.
So how can Susan's success help you stand out? Simply put, the most successful people in any given industry will always tell you three words: never stop learning. Find a technician who has successfully been performing PDR so they can show you how to perform a top-notch repair with the correct tools and process. Listen to any tips and tricks that may come to you along the way, as these technicians have likely discovered these through trial and error, and can save you from making some of the errors required to learn. Watch online tutorials from verified sources. Invest in the best tools because the wrong tools can actually cause more harm than good to the car. Even if you've been working as a PDR technician for years and already know these tips, never stop learning.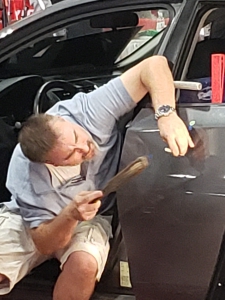 Perhaps you are a PDR technician who is looking to become a hail chaser. Find someone who has multiple seasons of experience working hail storms, as they can provide you an experienced insight to hail chasing. One season might have brought huge income for a hail chaser, and that can add to the lore of working the road as a mobile PDR technician. An experienced hail chaser can also tell you the real truth behind chasing hail that goes beyond the repair, but into the long days, fierce competition, and sleepless nights. 
Lastly, if you want to stand out in the PDR industry, be dedicated and work hard. No celebrity ever became an actor because it was easy to be rich and famous. They worked hard for years and eventually, they were recognized for their hard work. You get back what you put out, so if you work hard in a way that shows you are a dedicated professional, then the right people will notice.